A Complete Guide to Football Mastery
Breakthrough Your Plateau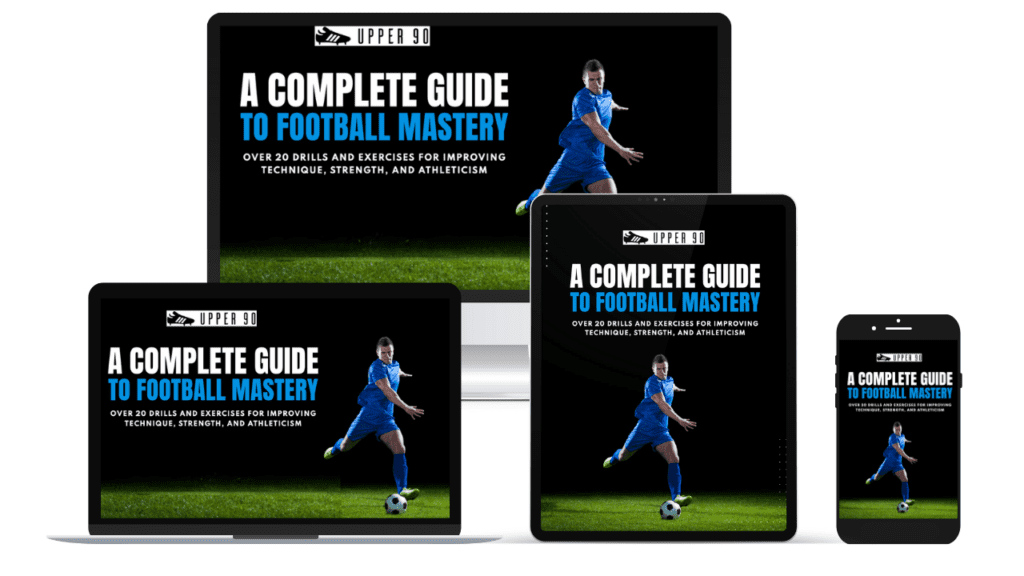 Proven Strategies for Improving Technical Ability, Strength, Endurance, & Athleticism.
Training alone can be tough, but it doesn't have to be.
Maybe you don't know the best drills, or you're struggling to improve your strength and stamina on the pitch.
The truth is, becoming a better player means perfecting every aspect of your game. If you're looking to take your playing to the next level, it's not enough to just focus on one area of improvement.
But with so many different aspects to focus on, how do you go about becoming a better player?
For Just: $50.00 19.00
The Key Is Adding Structure To Your Training
In order to develop quickly as a player, you need to isolate each part of your game. This will ultimately allow you to structure your training in a more effective way.
Everyone is playing at a different level. Some players are just starting their journey while others are looking to make the jump to the Pro or Semi-Pro level. So it's important to have a guide that allows you to focus on what you need most.
This starts with your technical ability. So what techniques do you need to have in your wheelhouse?
These Are The Most Important Skills You Need To Have Down
First Touch
Your first touch lays the foundation for your game. A good first touch will allow you to execute a clean pass or shot on goal. On the other hand, a poor first touch will lead to losing control and losing possession.
Dribbling
Dribbling is one of the simplest ways to tell an advanced player from a beginner. Well practiced players should be able to dribble at a variety of speeds, and have the ability to maintain the ball under pressure. Advanced players also need to be able to dribble comfortably with both feet.
Passing
Passing is key for effectively progressing the ball up the field and maintaining possession in tight situations. Football is a team sport, and developing fundamental passing skills is crucial for every player, regardless of position.
Shooting
After all, the main objective of the game is to score goals. Whether you're a defensive midfielder or centre forward, you need to have the ability to strike the ball with conviction.
These four technical areas are relatively straightforward, yet they still take a lifetime to perfect. That's why professional players are relentlessly focused on mastering the fundamentals.
You may already know where your technical weaknesses are, but that brings us to our next area of focus…
Becoming A Better Athlete
During my time in high school, I was one of the smallest players on my varsity team. This made it difficult for me to hold my own on the field, as I was often out-muscled and out-ran.
After years of hard work in the gym and on the pitch, I was able to build the strength I needed to transform my game. In the end, what made the difference was lots of effort over time, and using the right exercises.
Players who focus on becoming a better athlete benefit in more ways than one. And if you're talented on the ball but lacking in athleticism, you're leaving a lot of untapped potential on the table.
What Does Improved Athleticism Look Like?
Explosiveness
Speed is crucial in football. You need to be able to sprint on a dime to beat your opponents or get back on defense. What's important to remember as a player is that you can become more explosive with the right training. However fast you are, you can get faster.
Strength
There's a misconception that footballers don't need to work on getting stronger. This couldn't be further from the truth. The right strength training will get you running faster, jumping higher, and winning more challenges.
Endurance
Football is taxing on your cardiovascular system. You need to be able to play at a high tempo throughout all 90 minutes, and this means having robust endurance. Instead of just running laps, players should have football specific cardio tailored to building their stamina.
Resiliency
The greatest benefit of improved athleticism is resiliency. After all, the best ability is availability, and there is nothing worse than being sidelined from injuries. Improving your strength and mobility can go a long way in bulletproofing your body against injuries.
Introducing the Complete Guide to Football Mastery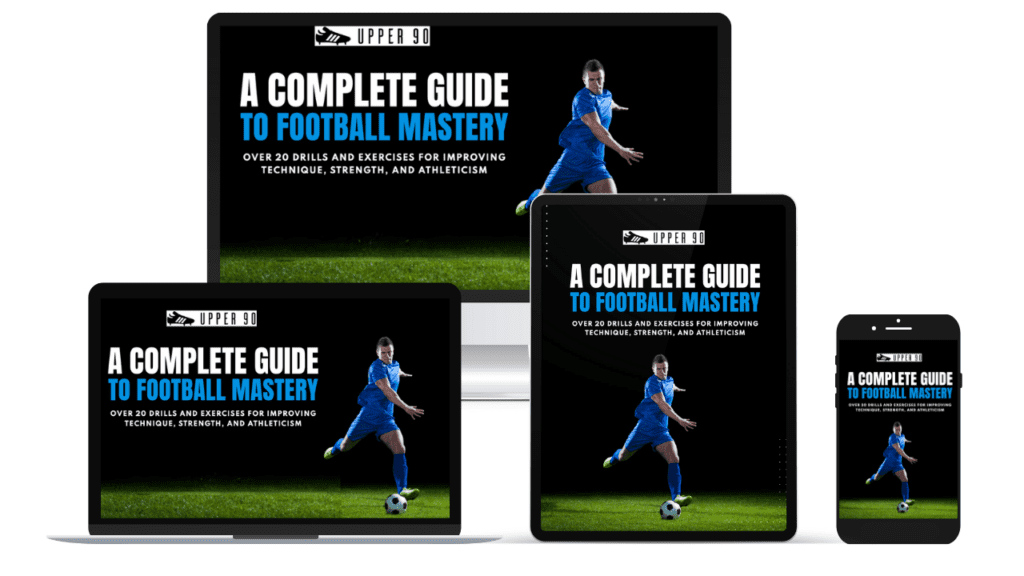 This guide is for players and coaches looking to develop all aspects of their game.
Whether you're new to football, or you've been playing for years, this guide will help you become a better player and a stronger athlete.
As someone who's been playing competitively for over 15 years, I've done hundreds of drills and exercises with the goal of becoming a better player. I've condensed the best of what I've learned into this Complete Guide to Football Mastery.
There's an overwhelming amount of fitness information available online. However, there aren't many guides that are tailored specifically for footballers. Football is a unique sport, so it makes sense that players need specialized training.
That was my goal with creating this guide, to provide a training guide that's tailored just for footballers.
This comprehensive guide contains all of the following information, and more:
Module 1: Technical Skills
Detailed drills for improving first touch
Juggling techniques to improve ball control
Dribbling drills with minimal equipment
Weak foot development
How to shoot with accuracy
How to shoot with power
Module 2: Training & Fitness
Training for endurance
Training for speed
Injury prevention strategies
Plyometric drills
Resistance training
Conditioning with the ball
Leg exercises for footballers
Upper body exercises for footballers
Module 3: Nutrition & Recovery
Diet strategies for footballers
Macronutrient breakdown
Hydration guide
Focuses recovery techniques
Sleep strategies
Active recovery guide
Bonus 1: 20 Individual Drills
20 individual drills that can be done wherever and whenever
Focus on ball control, passing, shooting, & dribbling
No equipment needed (just you and a ball)
Diagrams provided for all dribbling drills
Bonus 2: 7 Small Sided Drills
Perfect for small groups of players
Passing and possession drills
Detailed descriptions of each drill
Diagrams provided for all small sided games
For Just: $50.00 19.00
60-Day 100% Money Back Guarantee
I truly want this guide to be helpful in your journey to becoming the best player you can be. After 60 days, if you don't feel like the guide has been worth the money for you, we'll refund your entire order.
Private coaching can cost hundreds if not thousands of dollars. So i'm hoping that the content in this guide can be a useful and cost effective resource for those who may not be able to afford one-on-one training.
Please feel free to contact us if you have any questions. As always, best of luck with your training!