Complete Guide to Football Mastery
This guide is for players and coaches looking to improve their game fast.
Whether you're new to football, or you've been playing for years, this guide can help give you an edge.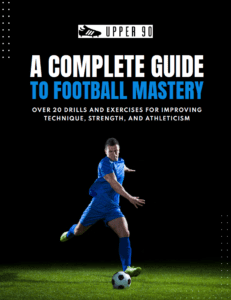 As someone who's been playing competitively for over 15 years, I've done hundreds of drills and exercises with the goal of becoming a better player. I've condensed the best of what I've learned into this Complete Guide to Football Mastery.
This comprehensive guide contains all of the following information, and more:
Juggling Tips
Dribbling Drills
Shooting Techniques
20 Individual Drills
7 Small Sided Drills
Training Exercises for Speed
Training Exercises for Endurance
Leg Exercises for Footballers
Injury Prevention Tips
Having competed in top semi-pro leagues in the United States, my coaches have always stressed that technical ability alone is not enough.
In order to become the best player you can be, you need to be focused on improving every aspect of your training.
That's why this guide will focus not only on your technical skills, but also on fitness, strength, & recovery.