Best Soccer Goals for your Backyard
I always wished I had better access to a soccer goal when growing up at home. This would have made practicing my shooting so much easier when I was training. Whether you're the parent of a young player, or you're looking to focus on your own development, having your own goal can be a fantastic training tool. That's why I've gathered a list of the best soccer goals available for your backyard.
Luckily, if you're looking for a goal to set up outside your home, there have never been more options. Below I have ranked some of the best options available for purchase. There are variety of goals at different price points so there will always be something to fit your budget.
I remember playing countless scrimmages using these pop up goals on either side of the field. These goals are compact and amazing for transportation. They weigh almost nothing due to the minimal materials and so they can be easily brought to any field you wish to play on.
Setting these pop up goals up is also extremely simple. All you need to do is place them in your desired location and then press the stakes into ground for stability. It's important to note that the smaller size of these goals makes them better for training accuracy rather than power. This makes them a great tool for working on short passing and finesse shots.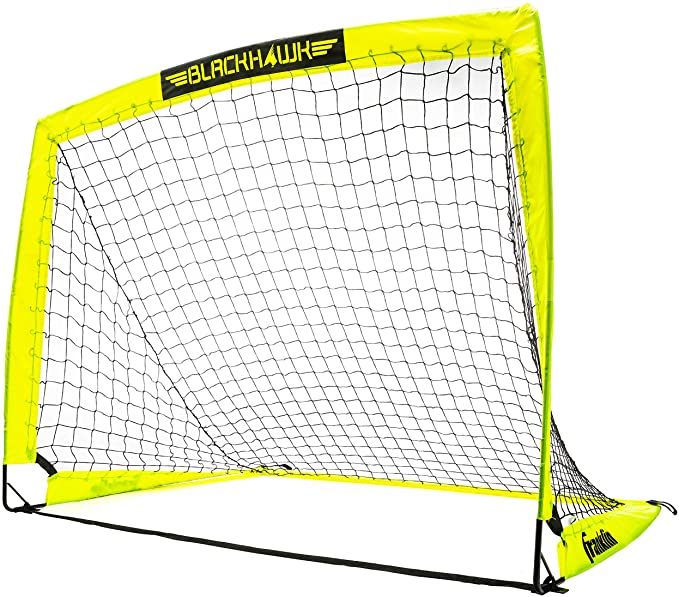 This portable goal offers a step up in size compared to the previously mentioned pop-up goal. Coming in at 4′ x 3′ in dimension, this is another great option for drilling your target practice. The Blackhawk also contains tie-down stakes to ensure the goal can be held to the ground.
Whenever you need to move the goal, it can be folded easily for transport and storage purposes. For those looking for a pop-up style goal with a classic rectangular shape, the Blackhawk goal may be a great option for you.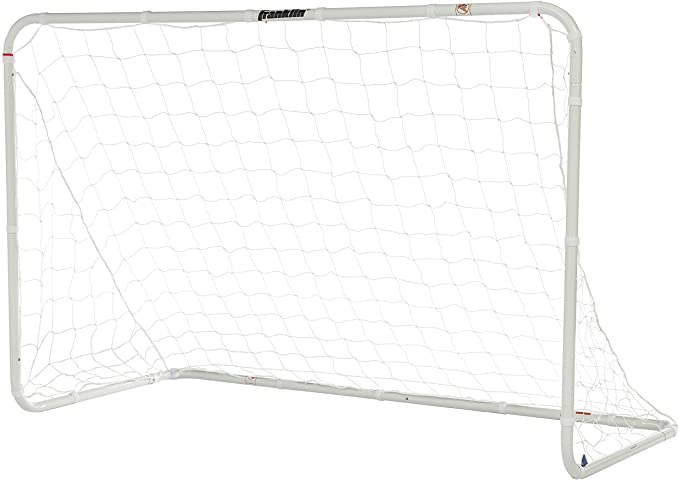 If you're looking for something more sturdy than a pop-up goal, this all weather goal from Franklin Sports is a great choice. The 4′ x 6′ goal is constructed with galvanized steel and is easily assembled with locking pins. Due to the more durable materials, you won't need to worry about bringing your goal inside on a rainy day. Regardless of the weather conditions, this goal will hold up well over time.
Since this goal is still on the smaller size, you can still quite easily transport this goal from place to place. The net connects to the steel frame using Velcro straps, and the goal still includes metal stakes for added stability when shooting. The 1.25″ diameter of the steel frame should be able to withstand more powerful shots than the previously mentioned pop-up goals.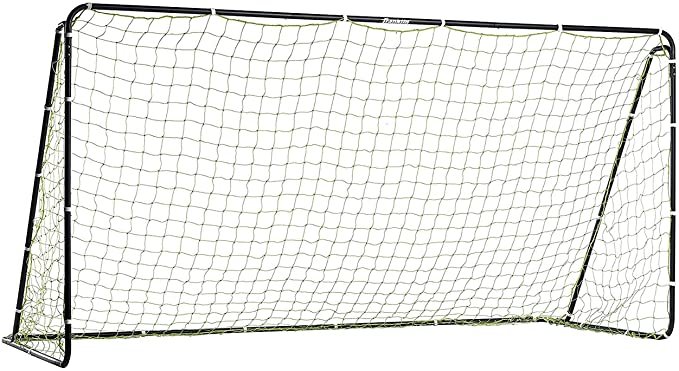 If you really want to take your at home training up a level, the Franklin Sports Competition Goal is one of the best options available. This 12′ x 6′ goal has a sizeable frame that helps to better replicate an actual goal. These larger dimensions will help you improve both power and precision when shooting.
Similar to the 4′ x 6′ All Weather goal, this larger goal comes with Velcro straps to connect the net to the steel frame. Stakes are also provided to help secure the frame of the goal. Due to the size of this goal, it's best suited for those who have ample space in either their front or backyard. It's also heavier than the other options on this list, so it will be more difficult to transport.
For those looking for the most well rounded goal for their training, this is one of the best soccer goals you can get for your backyard.