Adidas Goletto VIII – The Cheapest Football Boots
Adidas Goletto VIII
When it comes to football boots, we often associate quality with a hefty price tag. However, during my search for more affordable boots, I stumbled upon a pair that challenged this notion – the Adidas Goletto VIII.
Priced at a wallet-friendly $45, these boots beckoned to be tried and tested. So, after a few days of anticipation, I finally got my hands on them. I'll admit, my expectations weren't sky-high for the most affordable option on the market. But as I slipped them on, these boots proved me wrong.
In this article, we'll delve into the good and the not-so-good aspects of the Adidas Goletto VIII. Is this budget-friendly boot worth your hard-earned money?
Design: A Glimpse of Tradition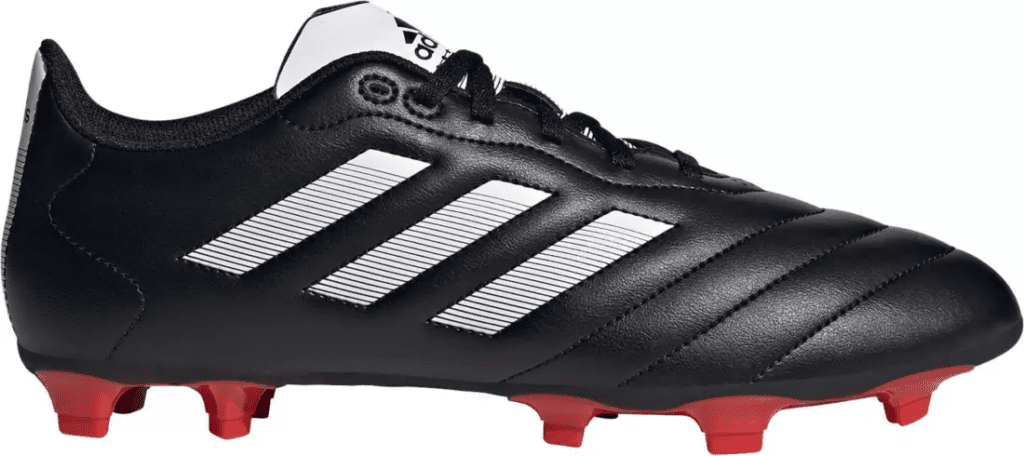 Given their modest price point, it's no surprise that the Adidas Goletto VIII boasts a somewhat chunky design. The upper is crafted entirely from synthetic materials, mimicking the appearance of leather.
It pays homage to Adidas's iconic three stripes, proudly displayed on both sides of the boot. The toe box is adorned with stitching that reminisces the classic Copa model's design. The lacing system is simple, centralized, and the tongue, admittedly, feels a bit flimsy.
Inside the boot, a thick textile inner liner provides substantial padding, especially around the heel. Towards the back of the boot, you'll find a rigid heel counter, offering stability. While the upper may not boast extravagance, it gets the job done.
Sole Plate

Turning our attention to the sole plate, this is where the Adidas Goletto VIII shines. Despite its lightweight construction, it doesn't feel cheap.
It's stiff throughout the heel and mid foot, with a bit more flexibility towards the toe box. What sets it apart are the sharp, triangular studs that deliver remarkable traction on firm ground surfaces. They remind me of the studs found on the $200 Mizuno Alpha Elite. All in all, for the price, you're getting a solid and aggressive sole plate.
Fit and Feel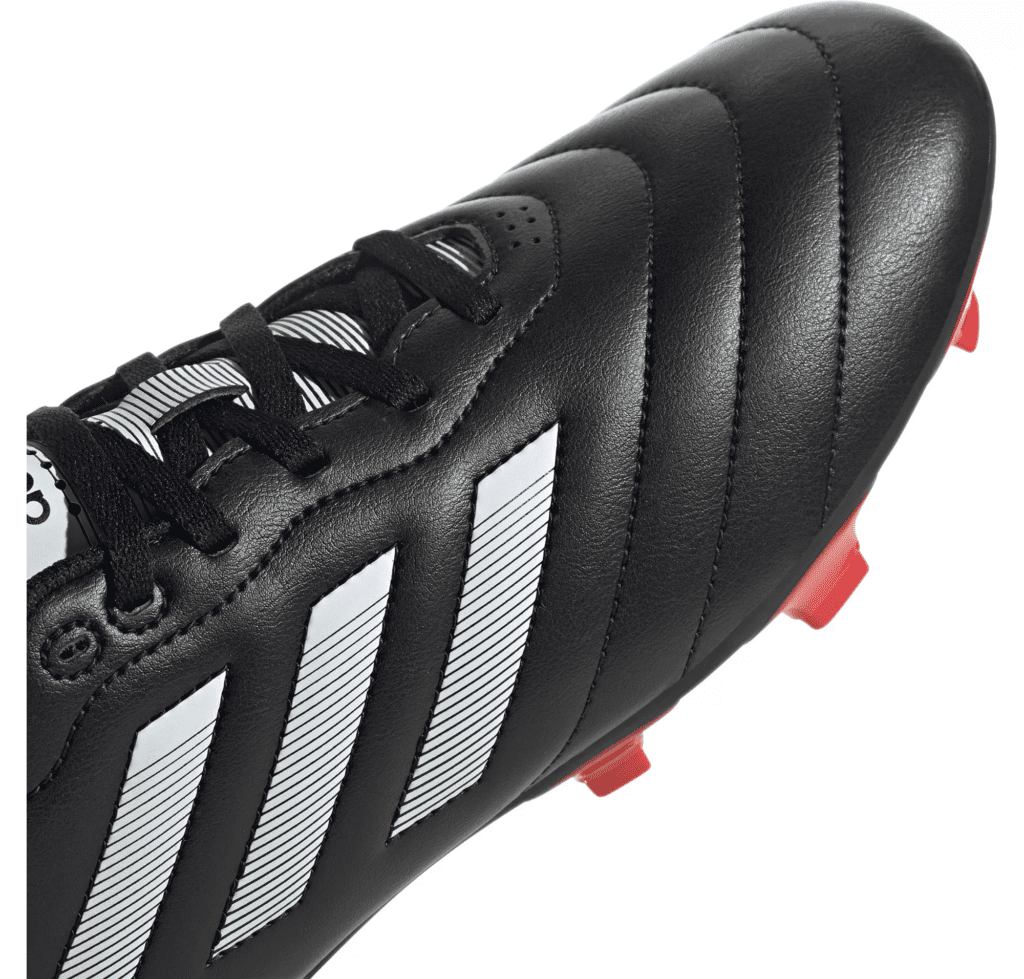 As I initially slipped my feet into these boots, my expectations were fairly modest. However, they didn't disappoint. The centralized lacing system makes putting them on and taking them off a breeze. The boots provided enough room to accommodate my foot comfortably, and they do fit true to size (I wear a 10.5 US).
While there are some commendable aspects, there are a few caveats to consider. Adidas went a tad overboard with the internal padding, particularly in the toe box. This might feel slightly claustrophobic and could be problematic for those with exceptionally wide feet.
Moreover, the boot's shallow heel leaves much to be desired in terms of lockdown. To compensate, you may need to tighten the laces excessively, which is less than ideal.
Playability: Good for Beginners
The Adidas Goletto VIII offers a heavily padded feel on the ball, even more so than you might expect. However, this extra padding doesn't significantly compromise sensitivity.
Juggling and shooting still felt clean, with no noticeable drawbacks compared to pricier boots. The crowded toe box due to excess padding might be a minor annoyance, but it's bearable.
The Achilles' heel of these boots, quite literally, is the lack of adequate heel lockdown. The shallow heel design fails to securely cradle your ankle, leaving you with a sensation that your heel might slip out at any moment. Compensating with tightly secured laces helps mitigate the issue, but it's not an ideal solution.
Affordable Competition: Is It the Best?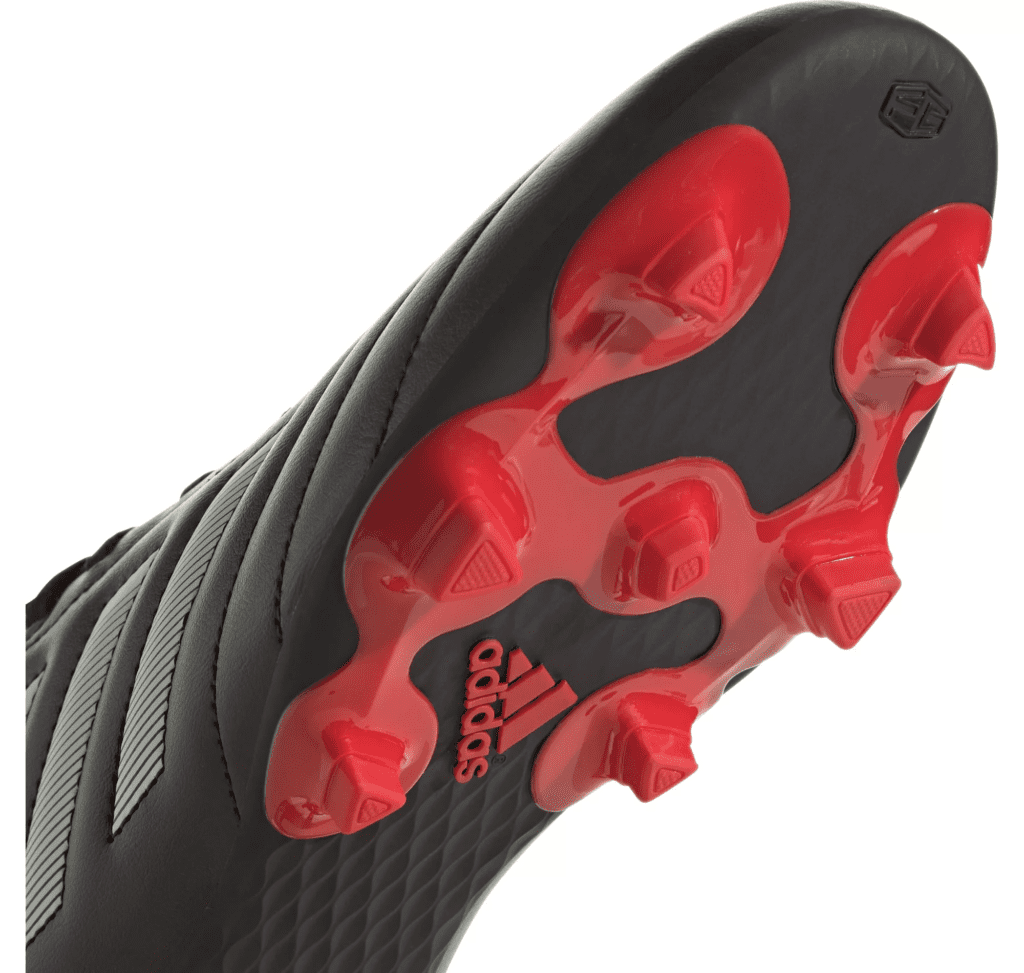 Considering other football boots in the sub-$50 price range, it's safe to say that the Adidas Goletto VIII stands out. If you're committed to a strict budget, these boots are a solid choice. Moreover, they are suitable for newcomers to the sport who want an uncomplicated, affordable option to dip their toes into football.
However, if you can stretch your budget by approximately $50, it's worth exploring other options like the Adidas Copa Gloro ($99) or the Nike Premier 3 ($110).
These boots share a similar design aesthetic with the Goletto VIII but offer improved execution in terms of comfort, lockdown, and overall build quality.
Final Verdict: A Budget-Friendly Bargain
In summary, should you invest in a pair of Adidas Goletto VIII boots? There are a few scenarios where these boots are an excellent choice:
Strict Budget: If you're determined to stay within a sub-$50 budget, these boots offer excellent value for money.
Newcomers to the Sport: If you're just getting started and want a no-frills option to test the waters, the Goletto VIII won't disappoint.
Growing Feet: For young players whose feet are still growing, these boots can serve as an interim solution until you need a larger size.
While the Goletto VIII has its merits, it's crucial to remember that the world of football boots is vast. If you can extend your budget slightly, exploring options like the Adidas Copa Gloro, Nike Premier 3, or New Balance 442 V2 Pro may yield a better experience.
In conclusion, the Adidas Goletto VIII stands as a testament to the idea that quality football boots don't have to break the bank. They serve as an excellent entry point for budget-conscious players and beginners.
Latest Posts
---