Mizuno Morelia Neo 4 Beta – Review
Mizuno Morelia Neo 4 Beta Elite
Mizuno Melia Neo4 Beta Elite: A Classic Refined
In the mainstream, Mizuno might not always receive the recognition it deserves in the realm of football boots. Why? Because Mizuno doesn't rely on gimmicks, extravagant advertising, or big-brand deals with the world's most prominent football stars.
Instead, they focus on their core strength: creating some of the finest leather football boots on the market. The Mizuno Melia Neo4 Beta Elite, the latest offering from the brand, exemplifies this commitment to quality.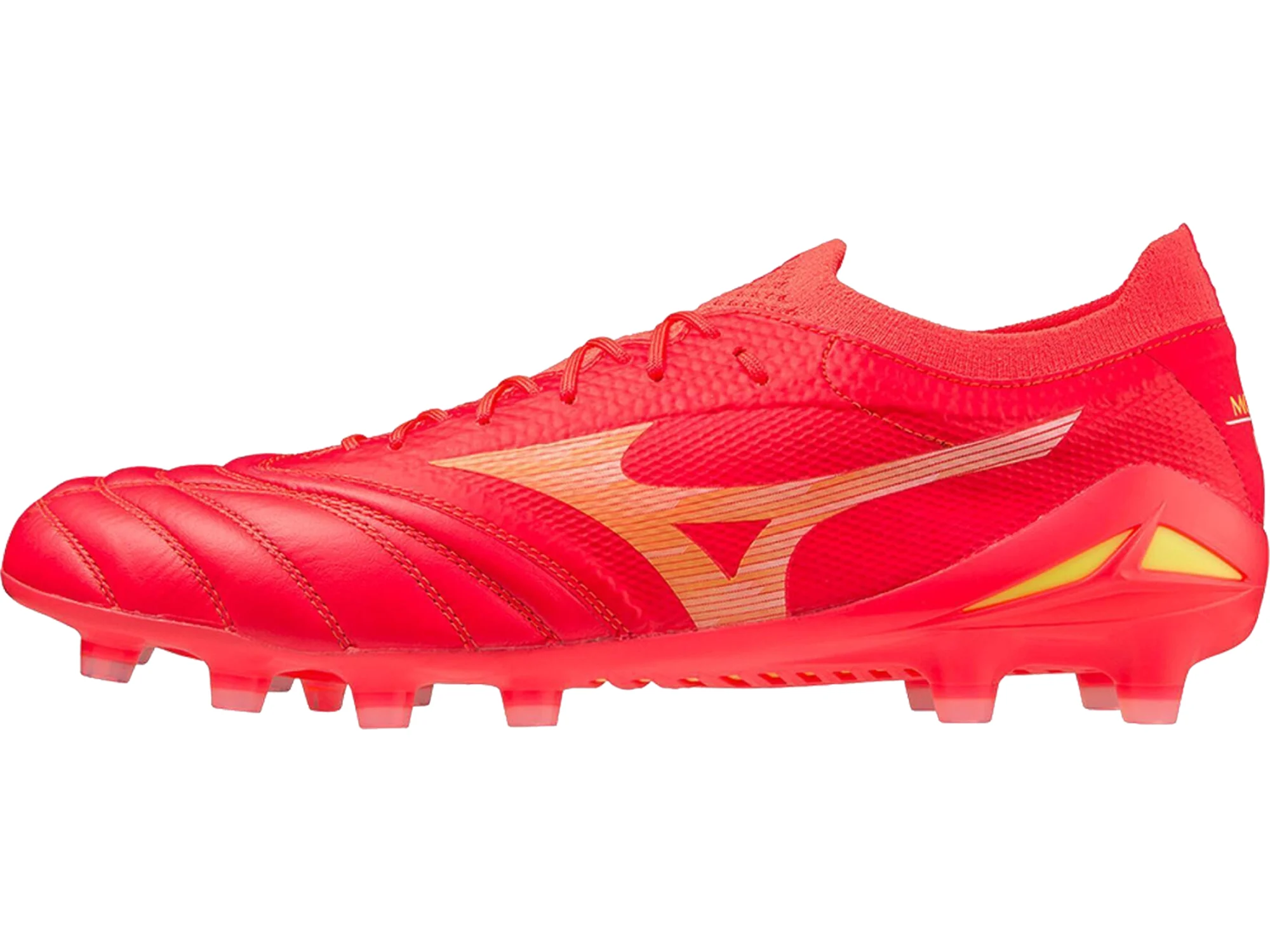 Design Excellence: The Mizuno Touch
Neo4 Beta Elite combines classic leather craftsmanship with modern performance.
One-piece construction is used instead of a conventional lacing system.
A blend of synthetic material and plush kangaroo leather creates a seamless hybrid design.
Beneath features an aggressive soleplate with a rigid heel and mid-foot.
Exquisite Craftsmanship: Premium from Top to Bottom
Premium construction quality evident throughout the boot.
Quality materials used from knitted collar to synthetic mid-foot to kangaroo leather toe box.
Soleplate construction and overall design showcase craftsmanship.
Fit and Comfort: A Seamless Experience
Slip into the boots, and they feel like a glove, providing a comfortable fit.
The boot accommodates wide feet in the mid-foot and toe box.
Elasticated collar ensures additional lockdown, making tight lacing unnecessary.
On the Field: Unparalleled Touch and Responsiveness
Exceptional touch on the ball while dribbling and juggling.
Soft kangaroo leather offers a natural padded sensation for ball control.
The close-fitting one-piece upper and aggressive soleplate deliver excellent responsiveness.
Impressive traction on firm natural grass surfaces.
Value for Money: A Premium Boot at a Sensible Price
Priced at $160, the Neo4 Beta Elite offers an excellent value for its quality and performance.
Comparable models from other brands often retail for $200 or more, making the Neo4 Beta Elite a cost-effective choice.
Even takedown level boots from other brands can be more expensive than the Neo4 Beta Elite.
Comparing with Competitors: A Top Contender
Competitors include the Adidas Copa Pure 2 Plus and the New Balance 442 V2 Pro.
Surpasses other models in terms of build quality and comfort.
Competes directly with the Copa Pure 2 Plus, offering remarkable quality and width variations.
Conclusion: The Best of Tradition and Modernity
Mizuno's Melia Neo4 Beta Elite is a brilliant fusion of tradition and modernity in the football boot world. Its impeccable craftsmanship, one-piece design blending synthetic and kangaroo leather, and comfortable fit make it a top choice.
Priced at $160, it offers remarkable value. Whether you appreciate tradition or seek contemporary excellence, these boots cater to all football enthusiasts.
Latest Posts
---