The Best Football Boots for Artificial Grass In 2023
What Boots are Best for Artificial Grass?
There are a wide variety of playing surfaces in the world of football. Whether you love it or hate, artificial grass is becoming more and more common.
Artificial fields are much easier to install and maintain, making them a more cost effective option compared to natural grass. So, what are the best football boots for playing on artificial grass?
Luckily, artificial grass (AG) boots are becoming more common in the marketplace, so there are a lot of options to choose from. All of the major brands now offer boots with a specific AG soleplate and stud pattern.
What makes these AG boots unique is primarily the shape of the studs. Whereas FG boots have long chevron studs with sharp edges, AG boots typically have shorter conical studs.
Can You Play With Firm Ground Boots on Artificial Grass?
So if you already have a pair of FG boots, can you wear them safely on an AG pitch? The answer to that question depends on the boots you have. If your boots have rounded or conical studs, then you should be ok to use them on AG fields.
However, if your boots have bladed studs, it's not advised that you use them on AG surfaces. The reason for this is that bladed studs could get caught on the surface of an AG pitch, resulting in a potential injury.
Although they are less aggressive, the circular studs on AG boots are less likely to dig into the artificial surface and cause injury.
To reduce the risk of injury, it's important that you have the right boots for the playing surface you're on. So if you find yourself on AG pitches most of the time, it's a good idea to invest in a pair of AG boots.
The Best AG Football Boots on the Market
Nike Premier 3
The Nike Premier 3 is technically marketed as an FG football boot. With that being said, this boot works real well on artificial surfaces. These were the boots I trusted for over a year of playing on AG fields.
The studs on the Nike Premier are short and conical, which means they're less likely to get caught in the synthetic AG turf. In addition to performing well on AG surfaces, the Premier 3 is a great all around boot.
At just over $100, it's one of the most affordable kangaroo leather boots on the market. The Premier is simple, without the bells and whistles that come with modern boots. Although the boot has a traditional design, it's one of the best boots in Nike's line up.
What Makes Them Great
Soft kangaroo leather upper
Rounded studs for AG surfaces
Budget friendly option
Good for wide feet
Nike Mercurial Vapor 15 AG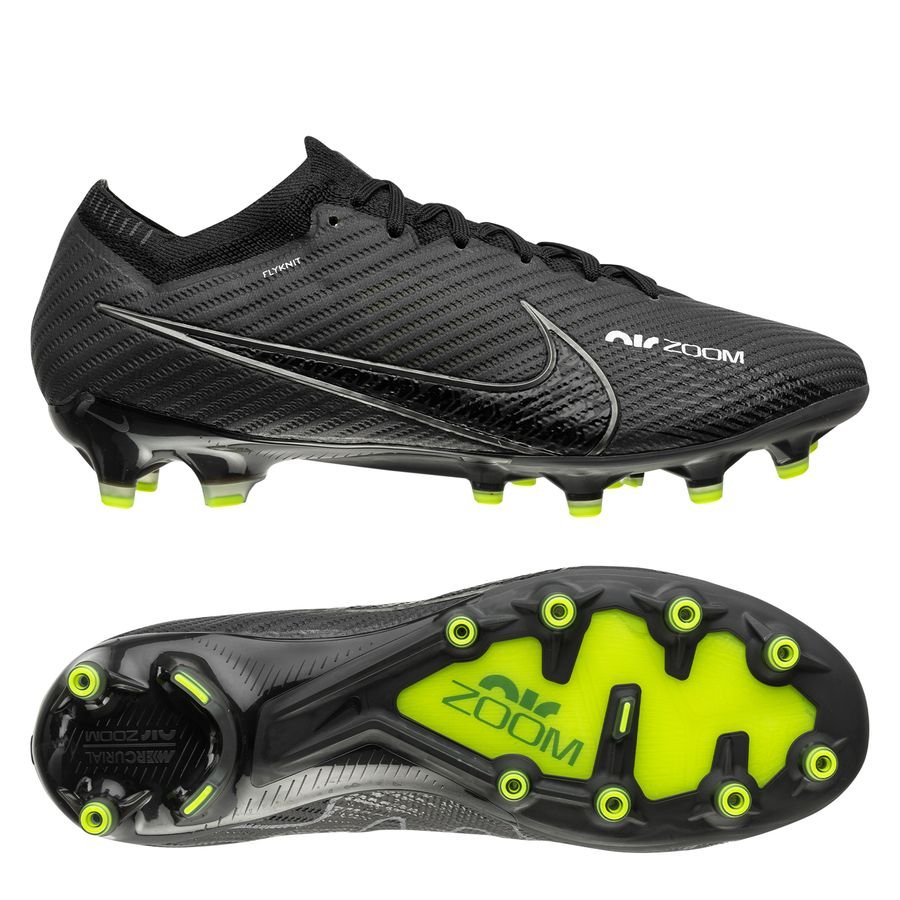 Every time Nike releases a new Mercurial, I think they won't top the last model. Yet every time, they're able to pull it off. With the Vapor 15, they've created one of the best speed boots on the market.
With this new design, Nike have also created a new AG Pro soleplate. This new soleplate has 10 conical studs to allow for the best performance on AG pitches. Nike was the first major brand to make a designated AG soleplate for their flagship boots, and it's something they've put a lot of thought into.
Along with the specialized soleplate, you'll also get a redesigned flyknit upper and the benefit of Nike's Air Zoom technology. This Air Zoom unit at the base of the boot will help provide an added energy return with each step you take.
What Makes Them Great
Lightweight design
Air Zoom technology
AG Pro soleplate
Comfortable flyknit material
Nike Tiempo Legend 9 AG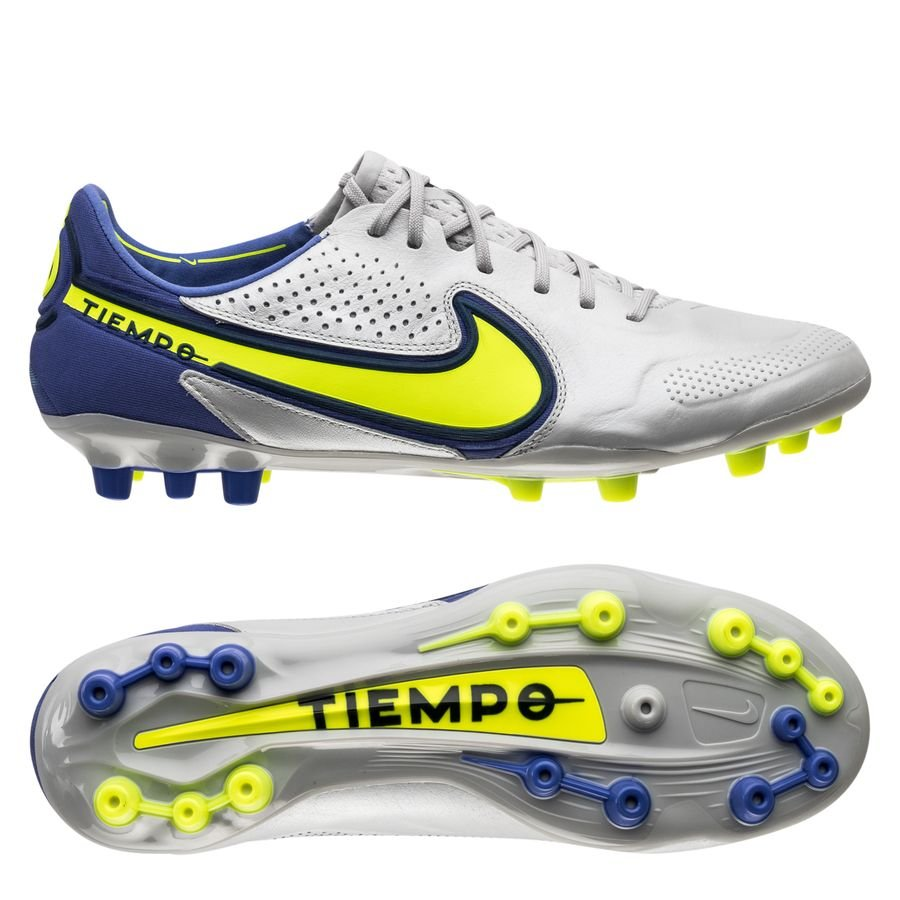 The Nike Tiempo Legend is another classic boot from the brand's lineup. These are also my go to AG boots. This AG variation of the Tiempo has a whopping 17 conical studs distributed throughout the soleplate.
Having this many studs gives the boots ample traction on AG pitches and reduces the potential of creating pressure points on your feet.
The Tiempo Legend 9 has a really comfortable design with a full leather upper and an elasticated mesh tongue. There are even foam pods on the side of the boot to help cushion the ball when dribbling. This boot is a great combination of modern functionality and traditional design.
What Makes Them Great
Elasticated tongue
Comfortable fit
AG Pro soleplate
Soft leather upper
Adidas X Speedportal.1 AG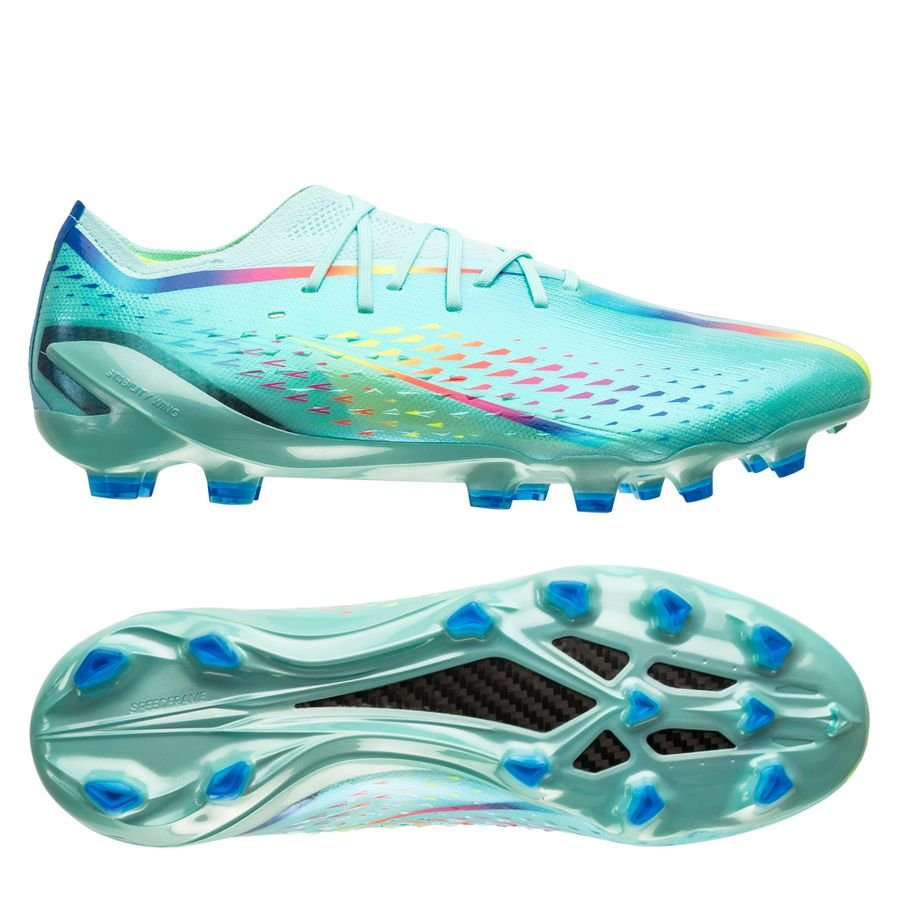 Adidas revolutionized speed boots when they dropped the X Speedlow. They've tried to build upon that success with the new X Speedportal. They've also created a brand new AG soleplate for this model.
This soleplate is really similar to the firm ground variation, with the main difference being an extra stud added to the AG version. The studs are also slightly shorter on this model compared to the more aggressive studs on the FG model.
As these studs are chevron shaped, they provide the most traction of any boot on this list. With this boot, you also get Adidas' Carbitex technology in the soleplate. This carbon fiber insert helps make the boots really snappy and responsive.
What Makes Them Great
Carbitex soleplate
Rounded studs for AG surfaces
Flexible Primeknit upper
Barefoot feel on feet
Adidas Copa Mundial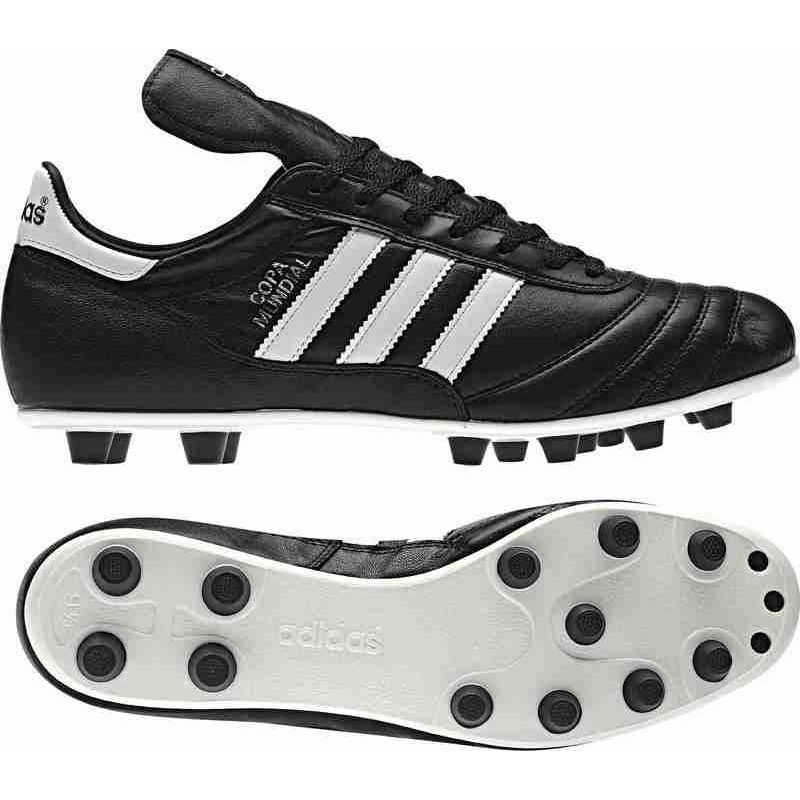 There's no boot more iconic than the Adidas Copa Mundial. The Copas were released more than 40 years ago, and have been worn by some of the best players to ever step on the pitch. Although these boots are old school, you shouldn't underestimate them.
They have one of the softest kangaroo leather uppers I've ever felt on a football boot. The soleplate on the Copas also has short rounded studs, making them a solid choice for use on AG pitches.
The biggest highlight of the Copa Mundial has to be the build quality. These boots are capable of surviving through the toughest conditions without falling apart. While many boots will separate over time, I found that the soleplate on the Copas stayed firmly attached to the upper.
What Makes Them Great
Amazing build quality
Rounded studs for AG surfaces
Durable
Comfortable for any foot shape
---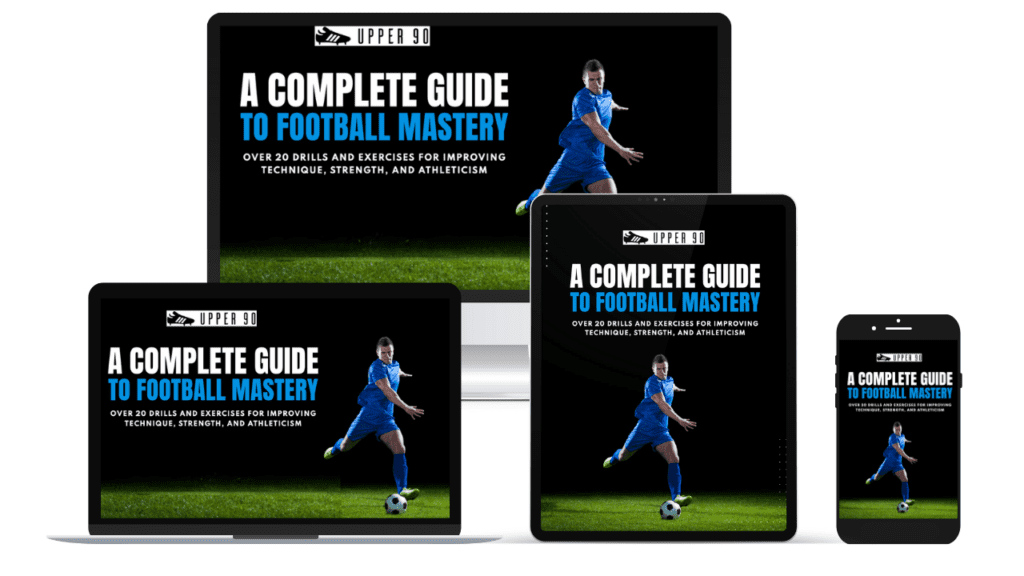 ---
Latest Posts