Best Football Boots for Astro Turf
Best Football Boots for Astro Turf
When you're buying a pair of football boots, it's crucial that you get something that's appropriate for the surface you play be on. Most boots are sold in firm ground variations (FG). These FG boots have long and sharp studs for digging into natural grass field. Alternatively, turf boots have smaller, less aggressive studs. This stud pattern is more suited for astro turf surfaces. Turf surfaces tend to be very hard and have a thin layer of textured nylon on the surface. The best football boots for astro turf should provide a comfortable playing experience while giving you enough traction on the field.
We've analyzed dozens of available astro turf boots on the market. The following boots provide great value for money and are tailor made for astro turf surfaces.
Adidas Mundial Team
Nike Mercurial Vapor 15 Pro Turf
Nike Tiempo Legend 9 Pro React
Puma Future 1.3 Turf
New Balance 442 Team Turf
Astro Turf Playing Surfaces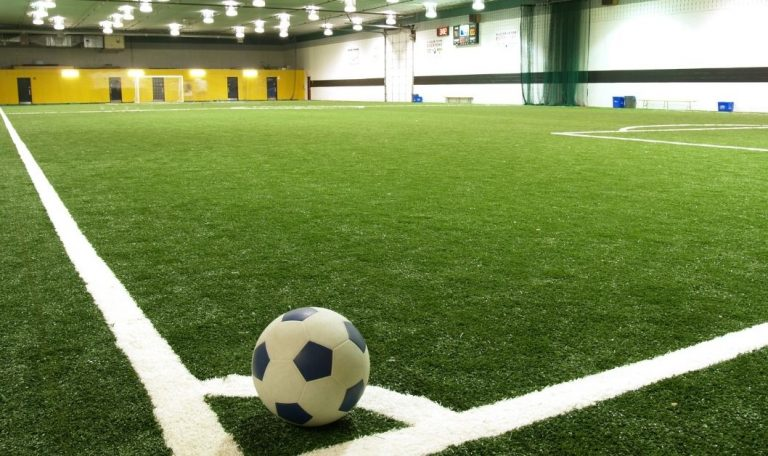 Astro turf is a playing surface that became popular in the early 1960s. This popularity was because they were a more convenient alternative to natural grass fields. Turf surfaces are artificial, which makes the cheaper and easier to maintain compared to real grass.
However, astro turf is often harder and less forgiving compared to natural grass. This created concerns when players tried to use their conventional boots on turf surfaces. There were issues that included excessive stud pressure and loss of traction. For these reasons, a new variety of turf specific football boots was created. Now, let's take a look at some of the best turf football boots on the market.
Adidas Mundial Team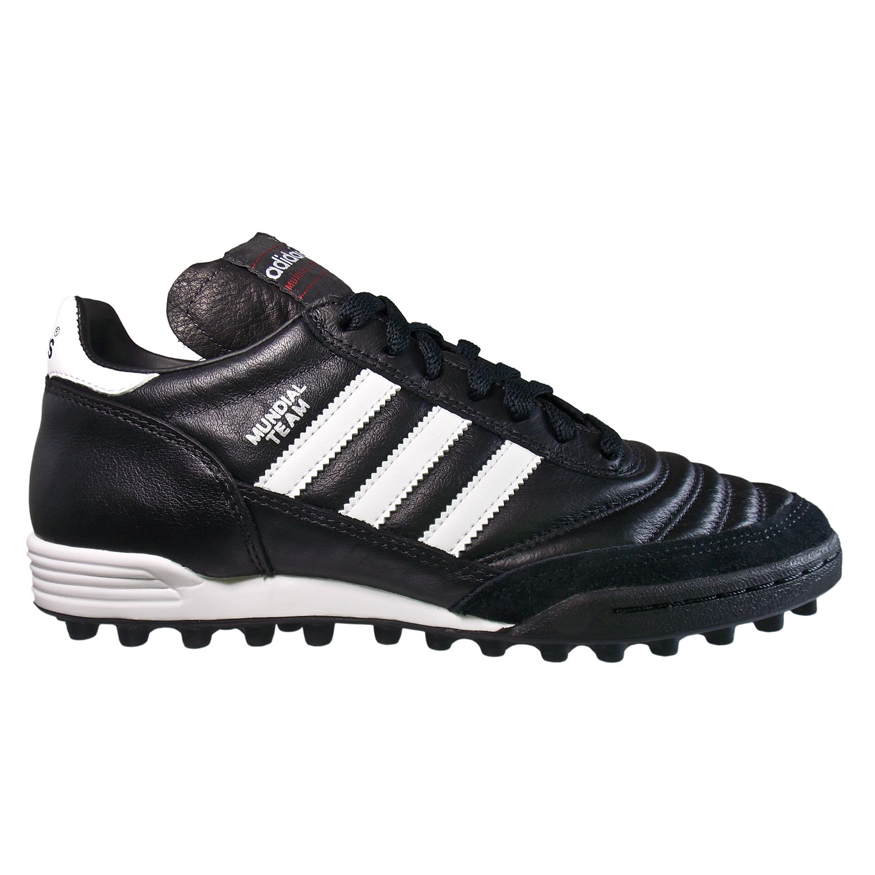 The Adidas Mundial Team flaunts the same iconic aesthetic as the classic Adidas Copa Mundial. There are a few key design changes that make the Mundial Team a great option for playing on turf.
Adidas has implemented their Traxion outsole in the Mundial Team. This rubber outsole has an ample amount of conical studs that are a great length for turf. These studs are long enough to provide traction, but not too long to the point of causing stud pressure.
Aside from the turf outsole, the Mundial Team has a hybrid upper comprised of both suede and leather. The leather stitching runs across the mid-foot, providing a comfortable fit for both wide and narrow foot types. At $94.99, the Mundial Team provides a lot of value, considering you're getting genuine leather and high build quality.
Nike Mercurial Vapor 15 Pro Turf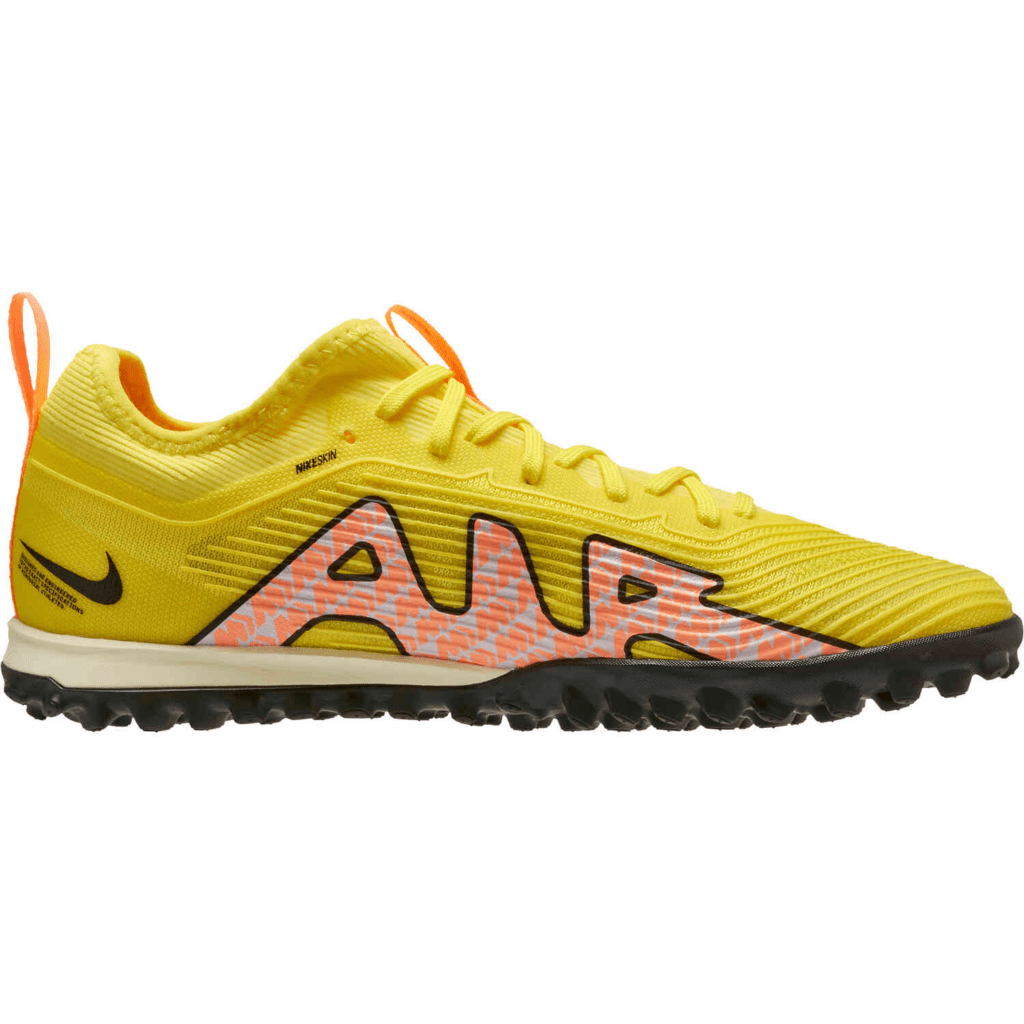 Often times when popular football boots are remodeled for indoor variations, the end product struggles to live up to expectations. This isn't the case with the Nike Mercurial Vapor 15 Pro. Nike have carefully adapted their flagship model to make it perfect for use on turf surfaces.
The upper on the Vapor 15 Pro Turf is a composite of mesh and Nike's Hyperscreen print material. Textured layers of material run across the length of the upper to provide ample traction when controlling the ball. Nike's rubberized outsole is flexible, durable, and has a great stud pattern for providing grip on turf.
As with any boot in Nike's Vapor 15 lineup, this model also has Nike's new Air Zoom Unit built in. This new technology provides spring and gives you an energy return with every step. At a retail price of $119.99, the Vapor 15 Pro Turf provides similar features to the flagship Mercurial at half the price.
Nike Tiempo Legend 9 Pro React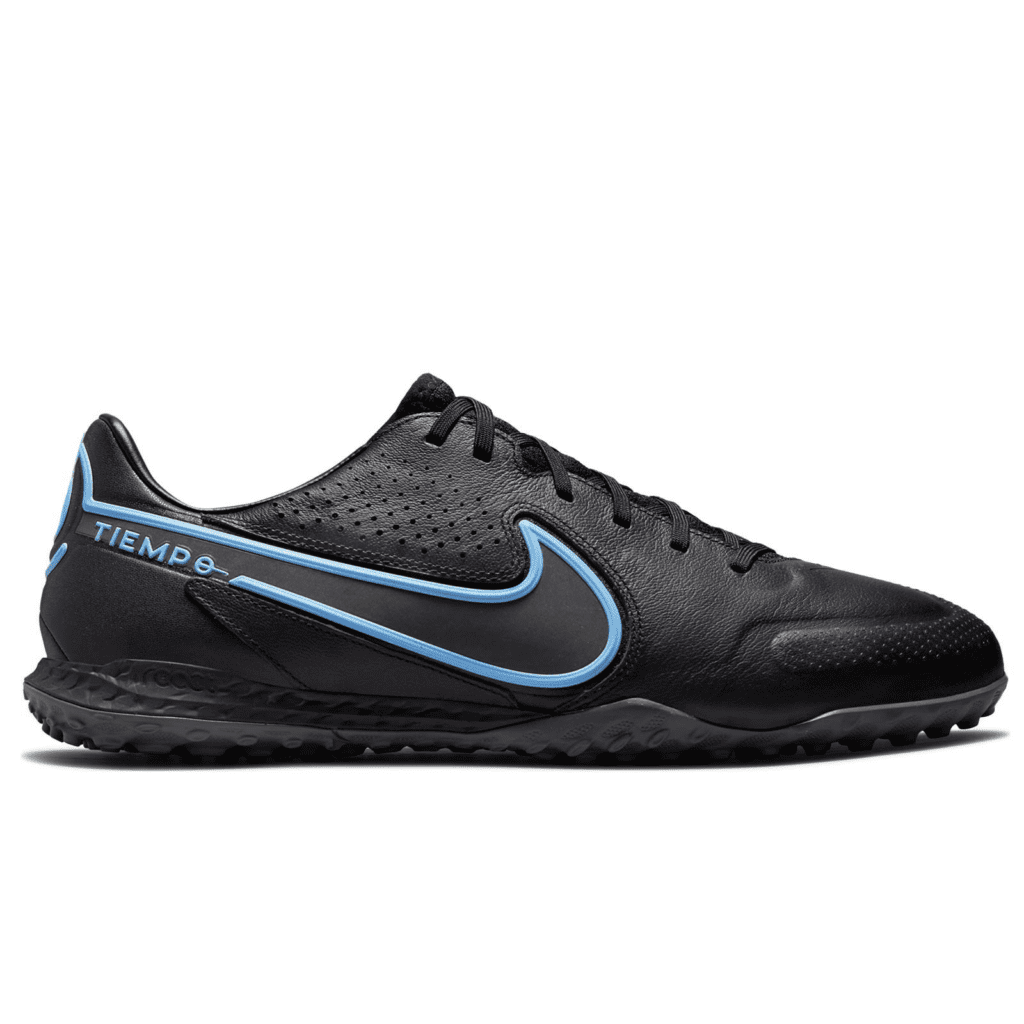 The Nike Tiempo Legend 9 Pro React represents another successful remodel of a classic Nike boot. Tiempos are known for their comfortable leather upper and their durable construction. These key features are highlighted in Pro React Turf model.
The calfskin leather upper is embossed with soft foam pods. These foam pods help cushion the ball when receiving and controlling the ball. Nike's React insole provides great cushioning while also giving you a bouncy sensation under foot.
Nike have worked carefully on the outsole of the Pro React model to ensure the best possible experience while playing on turf. The unique stud placement on the rubber outsole helps provide multi-directional traction on artificial turf surfaces. Similar to the Nike Tiempo Legend 9 the Pro React is also a really comfortable option for players with wide feet. You can pick up a pair of the Nike Tiempo Legend 9 Pro Reacts for $119.99.
Puma Future 1.3 Turf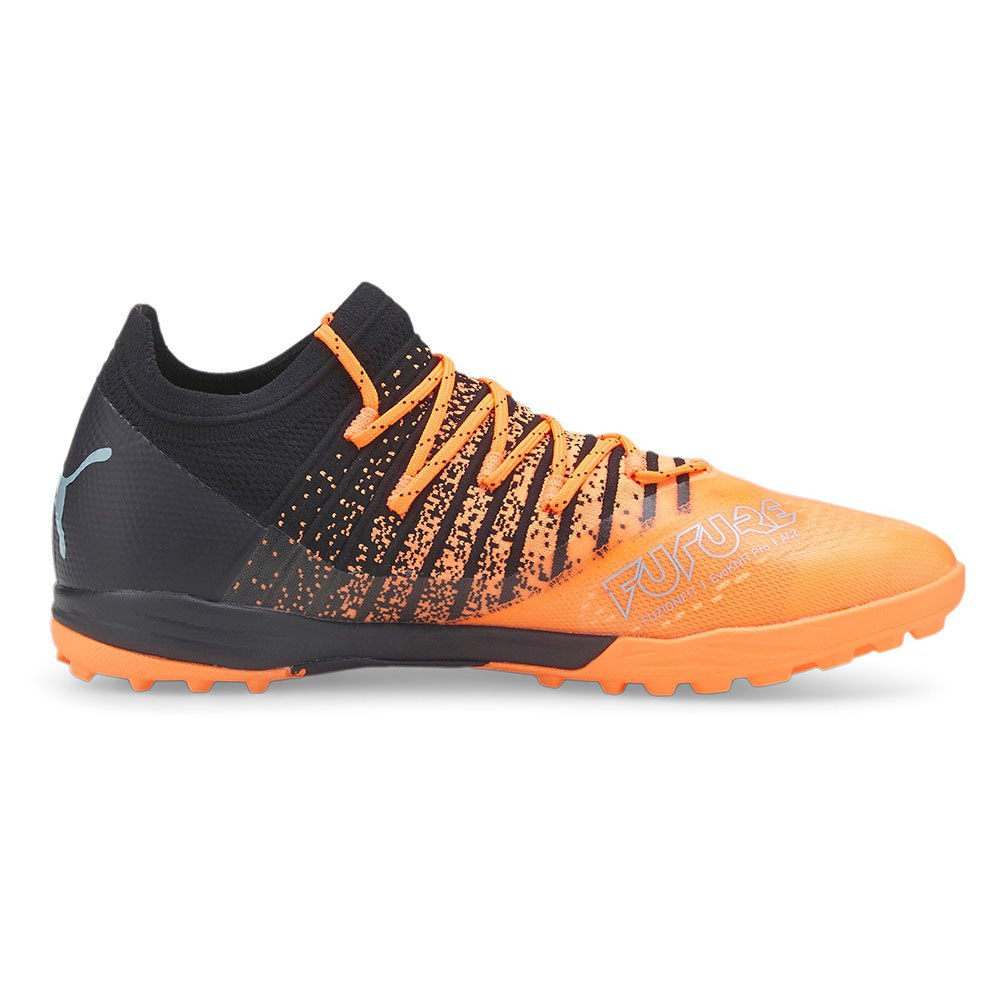 Following the pattern of popular football boots adapted for artificial turf surfaces, we have the Puma Future 1.3 Turf. We have already reviewed the firm ground iteration of the Puma Future 1.3, and have confirmed that they're one of the best speed boots available on the market. Thankfully, the same features that make the FG version great have been translated well to the turf model.
The soft one-piece upper on the Future 1.3 delivers a truly sock-like sensation on feet. This results in one of the most comfortable boots on the market. Due to the pliable nature of the upper, the boots require virtually no break in time. An added benefit is that the Future 1.3 has ample lockdown, and can be worn with or without laces depending on your preference.
Similar to the Pro React model from Nike, Puma has employed a rubberized outsole that's suited for multi-directional traction on turf surfaces. At $119.99, you're getting the best technology that Puma has on offer.
New Balance 442 Team Turf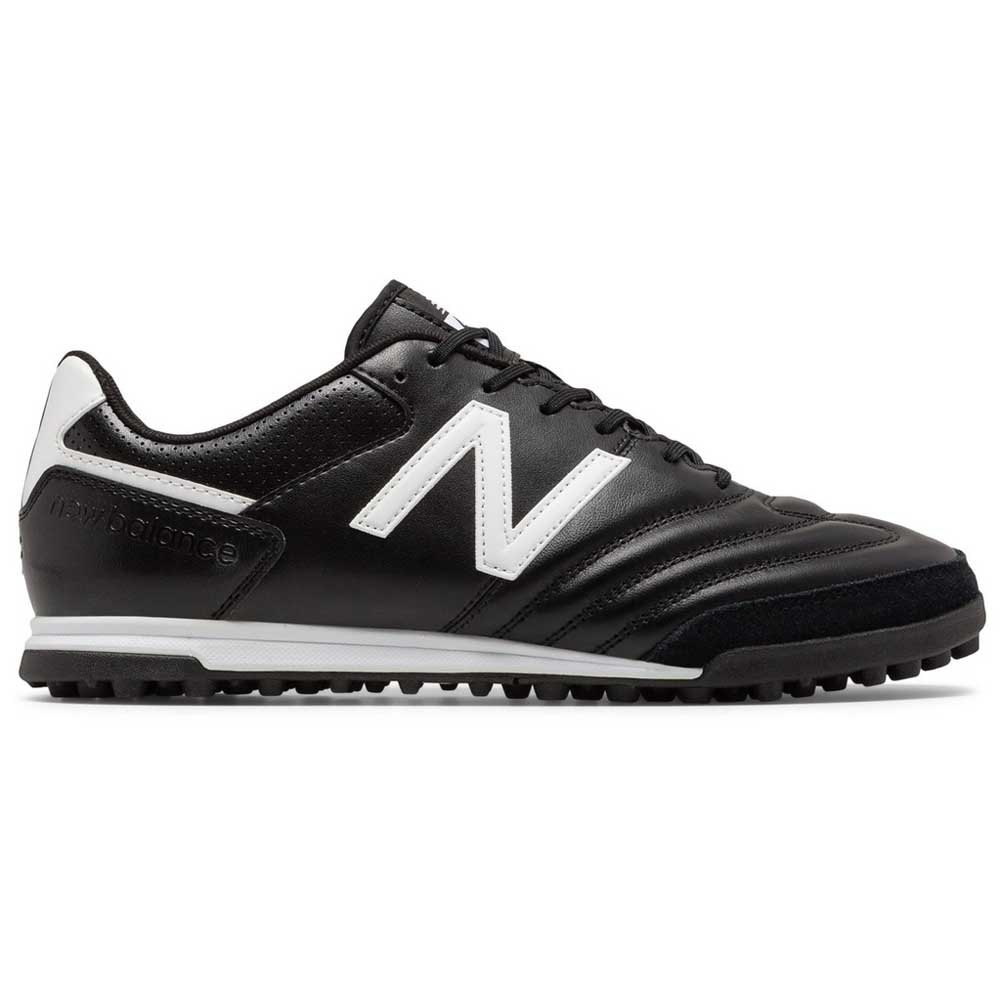 New Balance has been flying under the radar in recent years. The brand has steadily been producing higher quality boots that can rival the likes of Nike, Adidas, and Puma. New Balance's 442 V2 Pro was already praised in our list of the best cheap football boots. Following the success of their flagship model, New Balance has released a turf turf variation of their 442 football boot.
Similar to the Adidas Mundial Team, the highlight of the 442 Team Turf is the leather upper. This leather, in combination with the suede toe-box, provides a comfortable fit and a natural touch on the ball. The lacing system on the 442 also provides great lockdown and responsiveness when changing direction on the field.
The rubber outsole on the 442 Team Turf has studs of various sizes to help provide traction where you need it most. Maybe the best aspect of the 442 is its price point, coming in at just $99.99. This makes it a stand out value when it comes to turf football boots.