Lightest Football Boots of 2023
Which Football Boots are the Lightest?
Are you looking for the most minimal football boots on the market? If that's the case, you're going to want to invest in a pair of lightweight football boots.
Thankfully, brands have been committed to making their boots lighter than ever. It's never been easier to find boots that offer a barefoot playing experience. In this article, we'll be going over the top five lightest football boots on the market and evaluating all of their features.
These boots are all created with synthetic materials that allow them to be extremely thin and lightweight. This construction gives them a noticeably lighter feel on feet compared with more bulky boots.
For your convenience, we have provided links for each boot where you can pick them up at the lowest price possible. Now, let's get into our list of the lightest football boots of 2023!
Nike Mercurial Superfly 9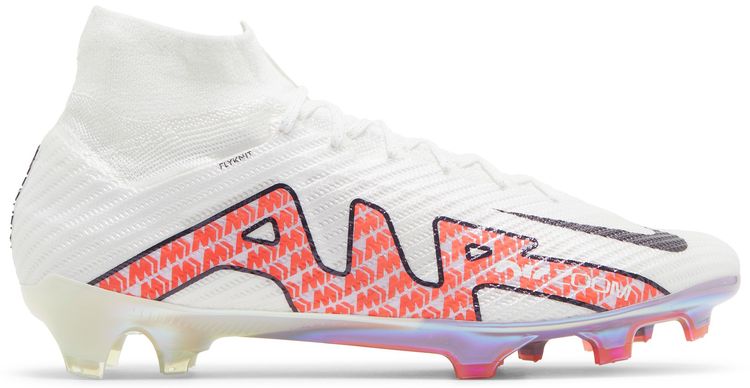 Weight: 171 grams (Size: 7)
The Nike Mercurial Superfly 9 is the most popular high cut football boot on the market. It also happens to be one of the lightest boots as well. At 171 grams (US: 7, EU: 40), these are truly barefoot feeling boots.
These boots are made using Nike's Flyknit & Vaporposite materials. Both of these materials ensure that the boots have a soft and flexible upper that's very lightweight.
The Vaporposite upper has a grippy coating that helps add traction when both dribbling and shooting the ball. This model also has an elasticated collar which improves both lockdown and comfort through the ankle.
Adidas X Speedportal+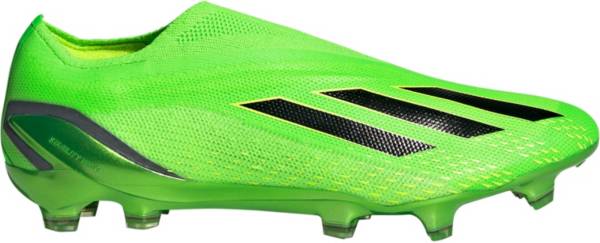 Weight: 169 grams (Size: 7)
Adidas have continued their domination of the laceless football boot market with the new X Speedportal+. The lack of a lacing system on this model helps it weigh in at just 169 grams.
The laceless design of these boots also allows for a close fit that improves both agility and speed, while the stretchy Primeknit collar provides a comfortable, sock-like sensation. The speedframe outsole is possibly the best designed soleplate on the market, delivering a snappy responsiveness.
Due to the lack of a lacing system, the lockdown on these boots isn't quite as good as what you get from other boots on this list. That being said, if you want a lightweight laceless football boot, the X Speedportal is the best available option.
Nike Mercurial Vapor 15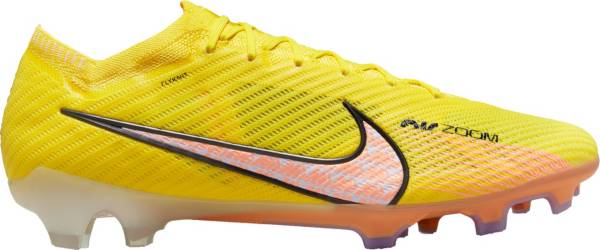 Weight: 168 grams (Size: 7)
The Iconic Mercurial Vapor is to this day the most popular football boot on the market. With the new Vapor 15, Nike have done this product line justice.
This boot is known for being lightweight, and it meets those expectations at just 168 grams. Regarding materials and fit, the Vapor 15 is going to be identical to what you get in the Superfly 9. The main exception being that the Vapor 15 is a low-cut model.
You'll still get Nike's Air Zoom technology in the soleplate, which helps add a slight energy return with every step you take. The Vapor 15 also has one of the most aggressive stud patterns of any speed boot.
Puma Ultra Ultimate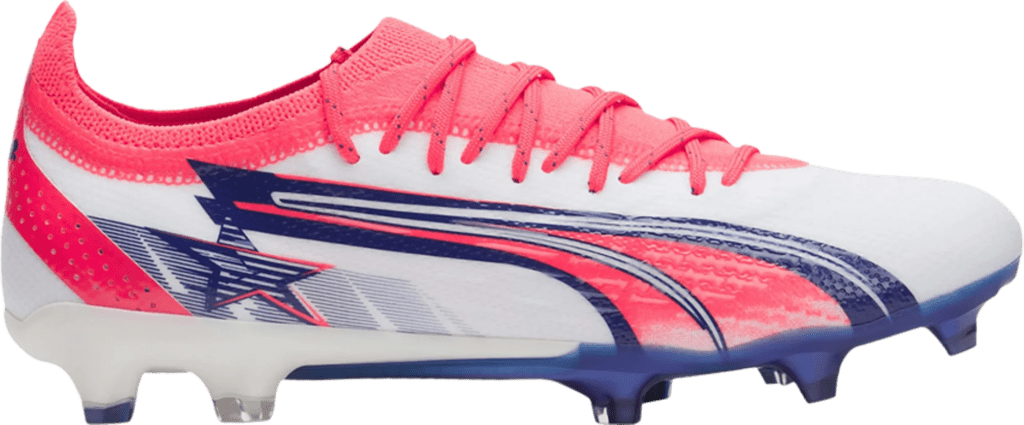 Weight: 167 grams (Size: 7)
Now we're entering the territory of extremely minimalist football boots. The Puma Ultra Ultimate weighs in at just 167 grams. That's not surprising when you pick up the boots and feel just how thin the upper is.
Puma's new Ultraweave upper is their thinnest ever. It comes coated with a Powerprint skin that gives the upper a layer of traction. Compared to other boots on this list, the Ultra Ultimate does tend to run a bit narrow, so they aren't the best for wide-footed players.
If you have narrow feet and you're looking for a minimal speedboot, the Puma Ultra Ultimate is a great choice. Just try to avoid getting stepped on, because these boots don't have a lot of protection.
New Balance Furon V7
Weight: 159 grams (Size: 7)
You may not have expected it, but the lightest football boot on the market is the New Balance Furon V7. New Balance have been innovating aggressively to make themselves contenders in the world of football boots.
With the Furon V7, the brand has a boot that can go toe to toe with any other speed boot out there. At just 159 grams, it's also astonishingly lightweight. New Balance achieves this lightweight design with the use of their razor thin Hypoknit upper.
The most impressive thing about the Furon V7 isn't just its weight, but the fact that New Balance have created a premium feeling boot that's also incredibly comfortable. Of all the boots on this list, none fit as well as the Furon V7.
Making these boots even more compelling, they're priced about $50 lower than competing models from Adidas and Nike. If you're looking for something unique, the Furon V7 is a great alternative to the mainstream.
---